Free advent calendar for kids
24.08.2020
Holiday tradition of advent calendar came from Germany. It arose in the late 1800s and with time it reached many other countries, spreaded throughout North America and Europe. What it's worth to know about advent calendar and how to order unusual free advent calendar for our loved one?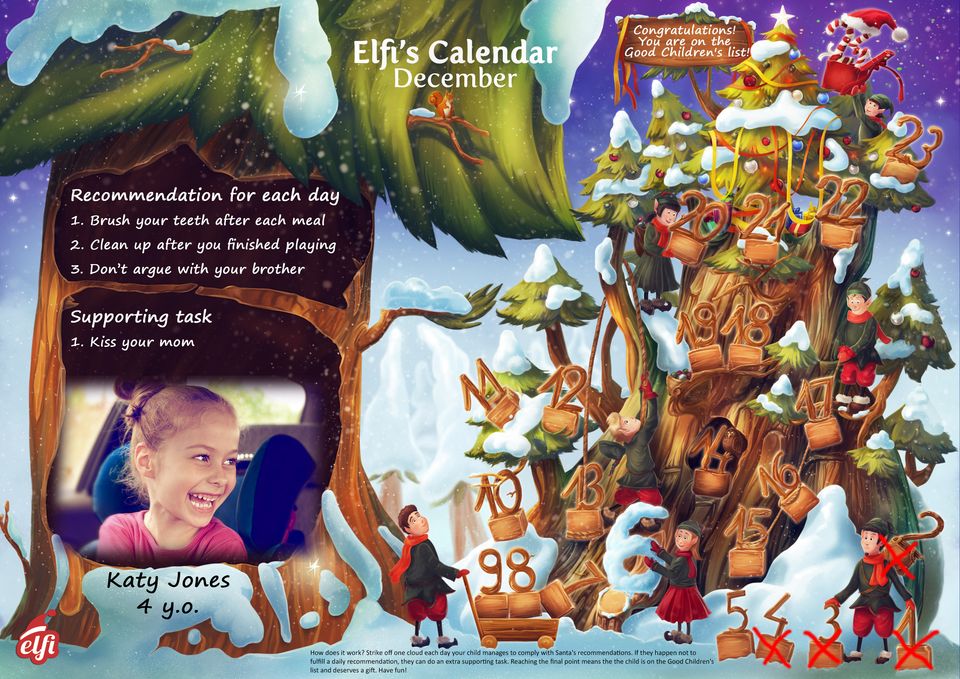 Free advent calendar for kids
Almost every of us remember from their childhood a large rectangular card with "windows", in which were sweets. That's advent calendar. Every day from December 1st do December 24th we ate one chocolate and count out of days to Christmas. The tradiction of advent calendar lived on to nowadays. In many houses in UK parents buy for their children a free advent calendar to make their expectation for Christmas time more magical. Modern advent calendars have very different forms. Instead of sweets they can contain wooden boxes with holes for small toys or just simple flaps covering each of the days. If we factor in not only free advent calendars for kids but also advent calendars for adult, unusual advent calendars can be composed of for example wine or beauty products.
Free advent calendar for children – why it's worth it?
From the beginning of childhood we explain our children that Christmas is amazing time. Free advent calendar can help us in it. By giving a free advent calendar for our kids we teach them to feel the hapiness of coming Christmas. Day by day they open the next "windows" and realise that they are waiting for something really important - for the birth of Jesus. Free advent calendar can be used as part of religious education. But it's not all - free advent calendar is a great way for teach our children patience. Curiosity what is hidden under "window" for the next day fights with thoughts which suggest to leave the pleasure for longer time. Thanks to that chindren realise that they have to deserve for something and that not everything what they want they can receive here and now. Free advent calendars we can treat as a preparation for difficulties adult life.
Free advent calendar – where to buy?
Local stores and online shops offer us a lot of various free advent calendar. However, giving for child a personalized free advent calendar always is more attractive. This possibility is provided by Elfisanta.uk. You can create your own project as you wish. It will be made and delivered to you or direct to chosen adress. No problem if you want to send free advent calendar very far away because Elfisanta.uk provide delivery all over the world. But it's not all what Elfisanta.uk has in its offer. You can order the letter from Santa or video from Santa which make your child more believing in existence of Santa Claus and will be more polite all next year.
Christmas is amazing time so then it's worth to give your children something special. Personalized free advent calendar seems to be a good choice.